NATIONAL CADET CROPS
Top
BOYS WING
The NCC came into existence on 16 July 1948 through the NCC Act XXXI of 1948 under the Ministry of Defense with the following aims:-
(a) To develop character, comradeship, ideals of service and capacity for leadership in the youth of the country.
(b) To stimulate interest in the defence of the country, by providing service training to youth of the country.
(c) To build up a reserve to enable the Armed Forces to expand rapidly in a national emergency.
NCC Boys Unit, 143D/28Pln, was raised in July 2003 at Sri Rama Krishna Degree College, Nandyal, with a sanctioned strength of 50 cadets. Sri E.V. Bhaskara Reddy, Lecturer in English, was appointed as the Care Taker Officer of the unit.
Lt. E.V. Bhaskara Reddy – Best A.N.O.-2005
Sri E.V. Bhaskara Reddy attended precommission course at the Officer's Training Academy (OTA), Kamptee, Maharastra, from 22nd November 2004 to 19th February, 2005. On completion of precommission course, he became a commissioned Officer and was given the rank of lieutenant.
Since its inception, the boys unit has been very active in all the NCC activities as well as the extension activities of the college
The following are some of the achievements of the boys unit:
S.U.O M. Javeed Hussain of this college represented the NCC directorate of Andhra Pradesh at the Republic Day camp and participated in the Prime Minister's rally held at New Delhi from 01-01-06 to 29-01-06. He has also participated in the Republic Day marching contingent.
S.U.O M. Javeed Hussain Participated in the Independence Day parade at Secunderabad on 15th of Aug 05 and received Commendation Certificate from the Director General of Police.
S.G.T. A. Raghavendra Reddy and cadet K. Narendra attended National Integration Camp – I held at Port Quarters, Malkspuram, Visakhapatnam from 24-11-2006 to 05-12-2006.
S.G.T. G. Murali Mohan, J.U.O Y. Jagadeesh Reddy and cadet, M. Parameswara Reddy attended All India Trekking Expedition "Kerala Trek" 2006-07 held at Peppara, Kerala from 05-01-2006 to 25-01-2007.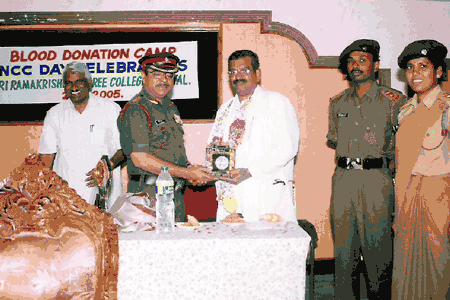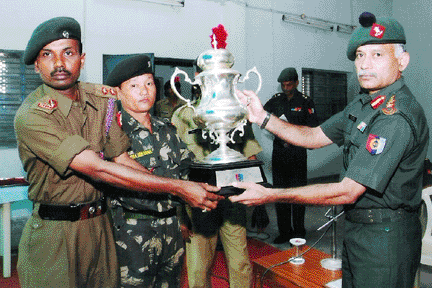 GIRLS WING
As part of its mission to empower women an exclusive NCC girl wing was raised in 2003 with the strength of 150.
Over the years Sri Ramakrishna Degree College has produced potential cadets who have won many laurels.
NCC Officer Dr. V.C. Lalitha Saraswathi completed Pre-Commission course from 15-06-04 to 11-09-04 at Gwalior, Madhya Pradesh. She was given the rank of Lieutenant.
Dr. V.C. Lalitha Saraswathi was selected as the Best ANO (Associate NCC Officer) from entire Kurnool Group in 2006.
Lt.V.C.Lalitha Saraswathi achieved the Best Disciplined Officer prize at Delhi. The prize was given by Group Commander Air Force. Com A. Shankar.
Lt. V.C.Lalitha Saraswathi has participated in many camps such as NIC, BLC, CATC etc.,
Two cadets participated in Shimla Trecking Camp from 21-05-04 to 04-06-2004.
Two cadets participated in ATC/summer camp held at Secunderabad from 14-06-04 to 25-06-04.
In 2004 two cadets Participated in NIC at Kohima in Nagaland.
NCC cadets have also participated in various Social service activities. Cadets actively Participated the various Pulse Polio Campaigns held throughout the year. The cadets participated in Blood Donation camps held on the college premises.
In the year 2006, two cadets were selected for Army attachment camp held in Secunderabad from 06-05-2006 to 25-06-06.
In the year 2006 one cadet Participated in Pre R.D. Camp held at Secunderabad.
In the year 2006 two cadets participated in NIC in Delhi Garrison parade. Delhi from 19-11-06 to 30-11-06.
In the year 2006 one cadet participated in SPL.NIC in Chakkabam (NER) from 24-11-06 to 05-12-06.
IMPORTANT DETAILS
FACILITES & SERVICES
IMPORTANT DATES
WE WILL BE GLAD TO HEAR YOU..